Sagewash Trigger Spray Assembly Combination Pack with 8 Tablets
Sagewash
Sagewash Trigger Spray Assembly Combination Pack with 8 Tablets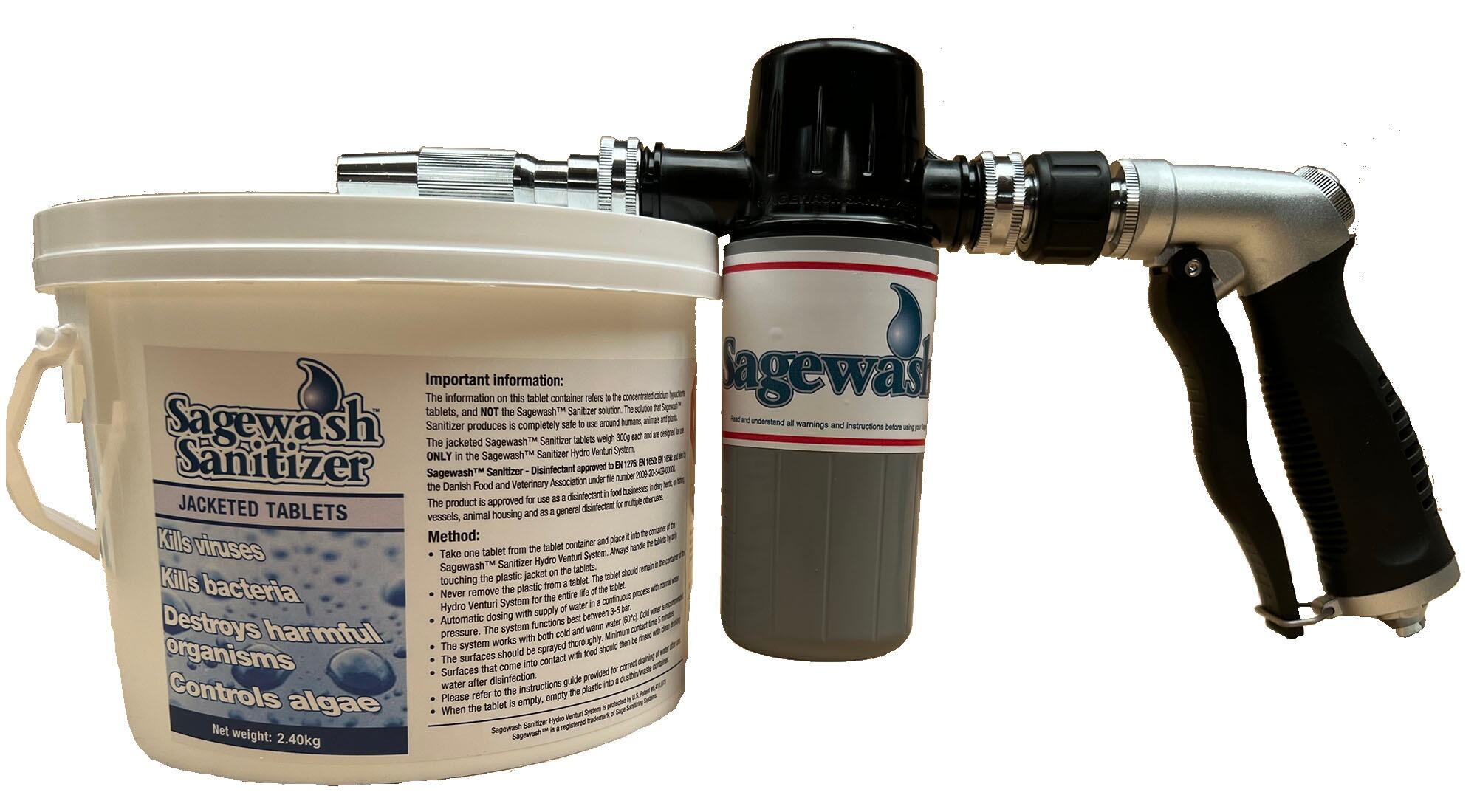 Share the love with your friend
Complete the form below and we'll email your friend about this product
You'll earn 500 reward points with this purchase.
Be one of the first to know!
We're sorry we're out of stock but we can let you know as soon as it's available if you enter your email address below.
£215.00
Sagewash Trigger Spray Assembly Combination Pack with 8 Sagewash Tablets SWS-COMBO-8-TRIGGER
The Sagewash Trigger Spray Assembly is constructed from a solid Brass composition with a Brushed Chrome finish, making this a durable and long lasting Trigger Spray Assembly. This Sagewash Trigger Spray Assembly comes with everything you need to get sanitizing straight away, with 8 of our fantastic Sagewash Tablets specially formed for our system and two Quick Connect attachments to make it simple, efficient and practical to start your sanitizing.  
This Combo comes with 8 of our Sagewash Long Lasting Sanitizer Tablets (SWST-01-08)
The Sagewash Trigger Spray Assembly presents a balance between simplicity and sophistication in continuous flow disinfection that has resulted in immediate acceptance by a varied group of users operating in a broad range of industrial, public, and private sectors, including: 
Food Service & Hospitality -  amusement parks, food concessions, food processing
Supermarkets -  deli & butchery areas, food delivery, and warehousing  
Restaurants - delivery areas and kitchens
Agriculture - farms, Diary, Fishing ports, transportation vehicles & crates
Wet Leisure - Swimming Pools, Shower & Toilet facilities 
Animal Care sector  
Horse stables & yards 
Dog Rescue and  Dog Boarding Kennels
Cat Rescue Centres 
Patios & outside dining areas, decking,
Refuse and waste rubbish storage areas and wheelie bins!  
The sanitized area can be occupied immediately after cleansing without further washdown or quarantine periods
Tested and proved effective against a huge range of viruses & bacteria.
Tested & proved 99.99 % Effective against.
E.coli; E.coli 157
Salmonella
Listeria
Parvovirus, ( Canine & feline)
MRSA
Bird Flu
Pseudomonas aeruginosa
Candida albicans
Aspergillus Niger
and many more
.
Sagewash Sanitizer Professional is a hand held spray gun that produces a constant flow of Sanitizing & Disinfecting Solution. It has a screw on, centrally mounted cylindrical container that holds a solid capsule of Calcium Hypochlorite. When a water supply from a standard 15mm hosepipe is attached, the water fills the container, wets the capsule and the dilution is fed to the patented Hydro Venturi which produces an accurate mixture. Sagewash Sanitizer Hydro Venturi system automatically measures and controls the mixing for a consistent level time after time. 
The output pH is approximately 7.8 and the free available chlorine concentration (FAC), is controlled at 250ppm depending on the model. The Disinfecting Solution at this pH is almost neutral and completely safe. The sanitized area can be occupied immediately after cleansing without further wash down or quarantine periods.""
Click Here for Sagewash Dog Area & Kennels Video 
Don't miss out to check our exclusive collection of Sagewash Sanitizer Ready to Use Solutions, Tablets and Spare Parts.
Sagewash Sanitizer has been fully tested and approved to a multitude of Industry Standards. including
 BS EN 1276: BS EN 1650: BS EN 1656